About Us.
Everything you need to know about us.
We are a family owned and operated business since 1959 and offer a complete package in a variety of training programs depending on the student's needs. This includes:
Payment options for tuition, housing, and CDL fees.
Affordable tuition and school owned housing facilities close to school.
Employment assistance in all types of trucking jobs including over-the-road, regional, and local.
The Diesel Truck Driver Training School, Inc. is to be recognized as a leader in vocational education by providing a well-designed, up-to-date training program taught by instructors who are experienced and knowledgeable in the field of truck driving. The instruction/management team provides leadership in establishing a curriculum which is aligned with new regulations and trends in the industry. School staff is dedicated to assisting students and graduates in achieving their career goals of obtaining employment as truck drivers.
Experienced and certified instructors that want to help students learn.
You are our customer and our number one priority is customer satisfaction.
We are licensed by the state of Wisconsin Department of Transportation and the Educational Approval Board.
Our employment assistance is aimed at specific student needs not just long haul jobs.
We offer many student services such as housing, permit assistance, and payment options.
Request a
FREE

brochure by download or by snail mail!

Brochure includes tuition housing, career services, dates, program descriptions
Services.
We provide wide range of Flexible & Useful Services.
Employment Assistance
Graduates of Diesel Truck Driver Training School receive free lifetime career/employment assistance. We provide the tools, resources, and assistance that are an essential part in our graduates finding employment.
Housing Assistance
Payment options can cover the cost of your housing at our dormitory. Upon enrolling into any of our training programs, we will reserve a room to cover your total length of training.
Payment Options
You can call one of our school representatives for more information. All applicants should submit an application online. If you need help with completing your application, give us a call we will do one over the phone.
CDL Permit Assistance
We will help you obtain your CDL Learners Permit after successfully passing the above three written exams. We offer in class instruction and study material to help you pass your written CDL permit test.
VA Approved
We have a profound respect for all those who serve in the military and sacrifice for our country. Therefore, we strive to put forth the maximum effort and consideration for all military veterans who wish to attend DDS.
Year Round Training
Classes start up every three weeks and run year round with no waiting list, so you can start as soon as you are approved for enrollment. To start next class simply apply online today.
Employee Training
We work with employers to send their employees through CDL training. It gives employees the opportunity to advance within your company, build longevity, moral, and career advancements.
Entry Level Driver Training
Diesel Truck Driver Training School is an FMCSA approved and registered entry level driver Training Provider. If you are interested in training for a CDL, let Diesel Truck Driver Training School take care of it for you!
Weekend Training
Employed? Week day obligations? We can work around that! We offer weekend training four times a year to keep your productivity moving.
What graduates are saying?
Hear what some recent graduates have to say about there success!
In just under 4 weeks I obtained my CDL and have a great job now locally.Trust the process! It's more than worthwhile! I'd highly recommend Diesel Driving School in Sun Prairie WI! They have a very high success rate of graduates from what I've seen! Thank you guys for all that you have done for myself and my family!
I have always wanted to drive trucks and never thought I could do it. I hired into a job that wanted me to get my cdl, so with that, I decided with all the law changes that I would try to get into a school for my cdl. I decided to go with DDS being that it has great reviews and that would allow me to go anywhere without a year contract. My friend went there and loved it. All the staff is great there, also a huge shout out to my instructor dan as he had the greatest patience, I have ever seen with me. After I graduated about a month later, I was accepted to Roehl Transport in Marshfield Wi. I am in their utility fleet, so I get to drive everything from reefer to dump truck. Multiple different jobs. I never would have gotten where I have without my friends, family and most importantly DDS.
I hope you are doing very well. As you know, your office was the main gate on my journey to obtain my CDL and enable me to join trucking industry. There were few set backs here and there, but your school manage to accommodate me and help me make dream come true. In fact, I recently secured a job with SWIFT Transportation and if it wasn't because of Diesel Driver School I wouldn't be able to make it, so please on my behalf extend my "Thank you" to my instructors for believing in me and their tirelessly efforts to train me. Once again, thanks to you and to the entire staff at DDS.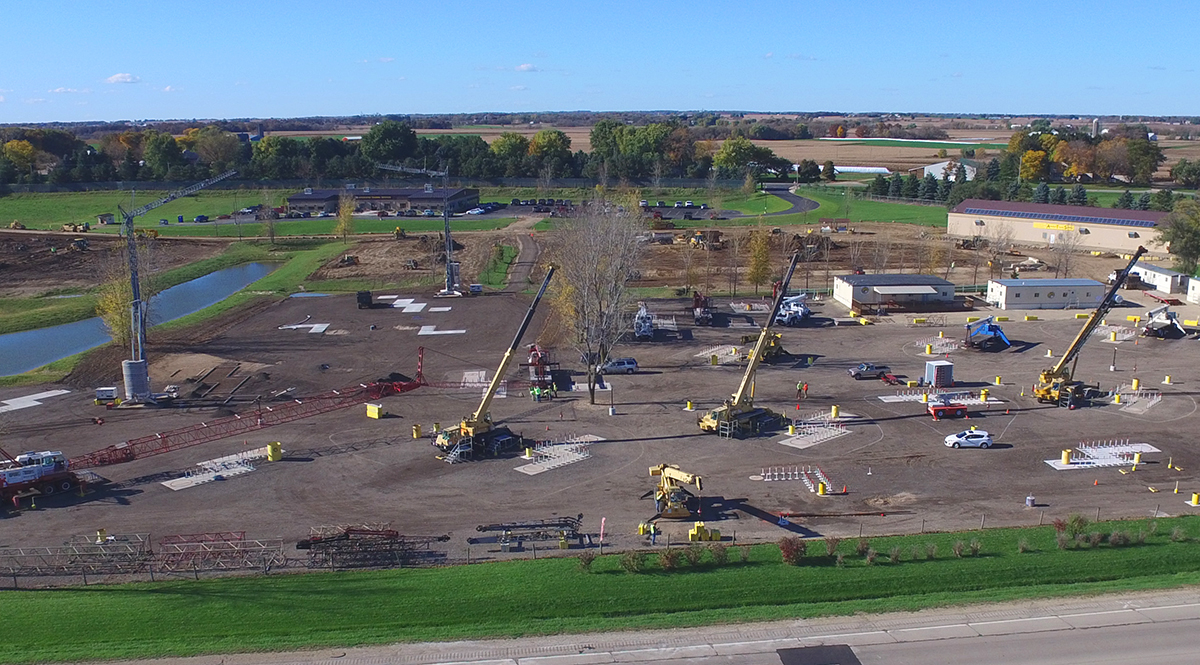 Affiliated Training Programs
Class-A CDL and heavy equipment training go hand-in-hand!
Associated Training Services and Diesel Truck Driver Training School offer a variety of training courses that cover heavy equipment operations, NCCCO mobile and tower crane certifications, and NCCCO rigger & signalperson certification.
Learn More